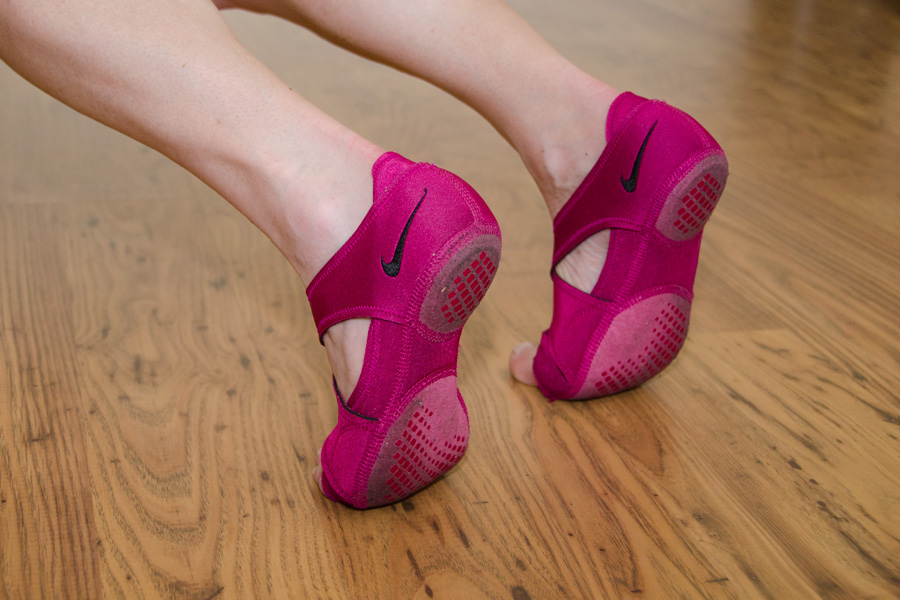 By Mary In Fitness, PIlates
Having spent 13 – 14 hours per week, over the past 5 months in my Nike Studio Wraps, I can safely say they are a great addition to my teaching kit.
Still looking good after 250 classes and a twice-weekly 40 degree wash cycle I am delighted with their performance.
Despite being open toed they keep my feet warm and clean! Previously my feet would stay like blocks of ice and I always had to have a foot bath at the end of  the day;  even with socks on, my feet were black from walking around the room.  The wraps provide good grip and support so that I can demonstrate anywhere in the room without sliding or requiring a mat for grip. This really suits my style of teaching Pilates as I never stay in one place and I'm always watching, walking, and talking.
Practical and stylish.   Not two words that usually appear in the same sentence however Nike have created kit which is functional, gets noticed and feels fantastic.
Still looking good after 250 classes
As I wrote in my first Nike Studio Wraps review, these are not cheap: with a price tag from Nike of £95 for the complete kit they are not for the once a week trip to class really!  The good news is that Nike now sell the inner shoes on their own for £40 separately to the outer footwear (that's about 16 pence per class so far) and are also offering some alternate colour options.
If you do invest be careful with Sizing – read the Nike Website carefully as you need to measure your foot to get the inner shoe right! The overshoe is very comfortable and with its rubber sole perfect protection in all weathers.  It's great to be able to be "ready for action" in seconds.
The only piece of the system I have not used is the 'ribbon' – ballet shoes require ribbon to hold the shoe on to the foot; the wraps stay neat and firm without the ribbon – a nice piece of styling but not for me.  At the end of the teaching day I just want to get out of my kit, put my feet up and relax.  Having to undo ribbon would slow down my progress towards that well earned glass of wine!
Well done Nike, thoughtful and practical design.

 Keep Me Posted
If you have enjoyed reading this article, then why not sign up to receive new articles as they are released?
Just let us know which subjects you are interested in, and we'll send you the details hot from the press.