By Mary In Fitness, PIlates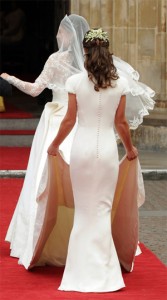 Some weeks ago Pippa 'the buttocks" Middleton was reported to have revealed the secret to her toned behind – "Pilates sessions"
At which point Pippa's Pilates Instructor's website exceeded its bandwidth! Over a period of 48 hours she had added many more classes to her existing schedule, and has recently secured a book deal which interestingly is to include her 'unique approach which combines pilates with aerobic exercise and healthy eating tips"
The quotes which are repeatedly attributed to Pippa are actually:
"as someone who is always on the go, Pilates has been a wonderful escape from my busy lifestyle"
"Over the past few months I have noticed a huge difference in my core strength and posture"
"I always leave feeling calm, refreshed and invigorated"
The week after the original articles were written (May 2011) Pippa was participating in the GE Blenheim Triathlon.  She has always been a keen exerciser and won a sports scholarship at Marlborough College. She is a regular gym goer and jogger.
There is no doubt that Pilates will have dramatically improved Pippa's posture, core strength, muscle tone  and ability to perform  everyday tasks and sports activities; maybe going to the gym, weight training, running  combined with sensible diet has something to do with her fantastic "derriere" as well?
Step away from the biscuits, and computer all of you who are now crying………Pippa combined Pilates with …… hard work!  And ………..'nothing replaces hard work'!
The attention Pippa has gained has brought Pilates to the wider masses, fantastic in my view!  One worries about the air of disillusionment that may also come to those who suddenly realise it is not a panacea for all ills and the derriere they crave won't be instantly recognised!


Keep Me Posted
If you have enjoyed reading this article, then why not sign up to receive new articles as they are released?
Just let us know which subjects you are interested in, and we'll send you the details hot from the press.