10 Jul

Foam Rolling – Roll Away the Tears
Why Foam Rolling?
The body is extremely clever at adapting to the stresses placed upon it.  Adopting poor postural positions leads to overworked and tight muscles and over time results in poorer mobility.  We are designed to move.  Our lifestyle choices are the villain and the body becomes the victim.  Foam rolling will help break down muscle tension and deactivate muscles which have spasmed and forgotten how to relax ultimately setting the body free.
My foam rolling journey. I train 5 days per week and I'm diligent about posture, technique and stretching.  Deep tissue sports massage used to be part of my weekly routine and neglecting this area resulted in aches I could not shake off and restrictions in certain movements. When the foam roller first appeared on the gym floor I dabbled with it and bought one to use at home but often gave up because it was just too painful.  I had allowed matters to go too far. I needed to learn how to use the foam roller effectively and spend more time on self-care.  If you have allowed things to get into a mess (like I had) then, just like deep-tissue massage, foam rolling is likely to be uncomfortable at first but persevere – it's worth it in the end.
With a daily foam rolling routine:
My niggling aches have gone
I have better quality movement
I am learning where my body needs maintenance to keep it pain free and moving well
And that satisfactory "ahh" relief factor

 
My new best friend the roller, saves me money and keeps me smiling!
"Foam 4 5"
"Foam 4 5" is a free 5 minute tutorial prior to your booked online Pilates session throughout July and August. Log in 10 minutes before scheduled class time and be ready to begin promptly. Each week we will focus on a different area of the body and over 6 weeks we will build the skills necessary to resolve many of those aches and niggles.  Watch or take part, your choice.
What Kind of Foam Roller Do I Need?
A plastic soft drink bottle – 1.5L or 2.0L filled with water.  Screw the lid on securely (see photo)
If you do have a Foam Roller – it needs to be soft and no more than 10cm in diameter (most are larger than this and too much for a beginner).
If you wish to invest – use the link below straight to Amazon, where we have sourced the correct size, best priced and most appropriate Foam Rollers.
You may also need an extra cushion or towel.
Disclosure: If you buy via the link we will earn a small commission from Amazon but you will only pay the usual price. We use this to help fund our research through more books and tools that we think will help our students.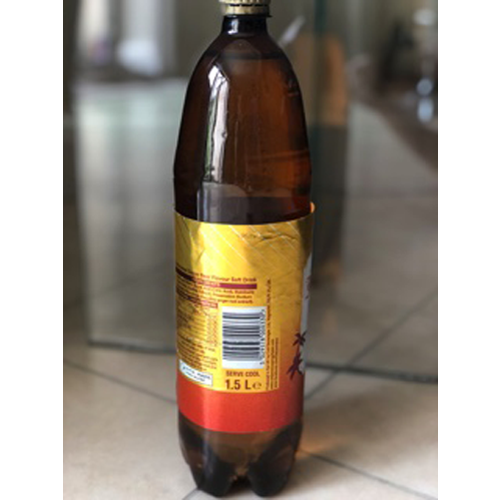 Soft Drinks Bottle
Use a 1.5 litre or 2 litre plastic bottle. Fill with water and secure tightly.
Inexpensive but effective. Not available on Amazon (as far as we know)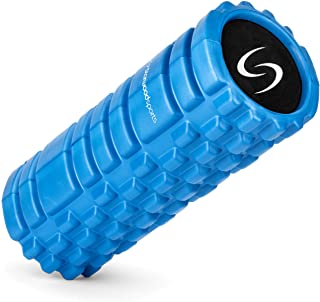 Starwood Twin-Roller Set
The inner, soft roller is perfect for the beginner and the Foam 4 5 sessions. The outer roller is for more intense trigger-point work. Don't try it until you have mastered the softer version first.
Price around £13
Check Price on Amazon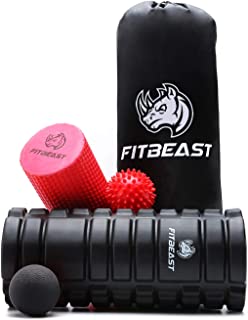 FitBeast Massage Set
A twin-roller pack with massage balls to target smaller areas like those around the shoulder blades. A wider range of tools for different problems but more than you need to get started. Good value compared to buying the items separately.
Price around £17
Check Price on Amazon