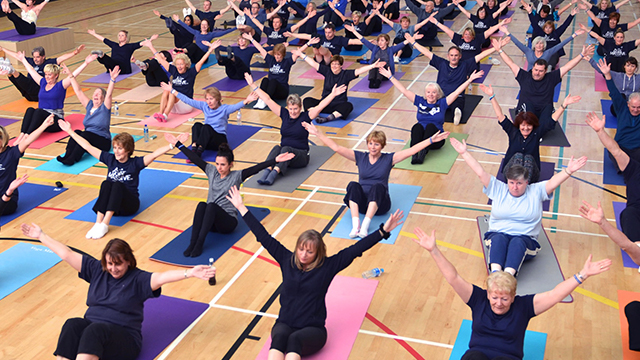 19 Oct

About Pilates4Life
First Class Teaching Since 2005
Pilates4life was founded by Mary Clarke-Mills in 2005 in response to constant demand for high quality Pilates Method instruction outside the "health club" environment.

I don't often come across an instructor who has such an in-depth knowledge and understanding of the body structure and is able to explain it so well
With 14 Courses at 4 Levels, Pilates4Life offers a logical system of progression for the participant from complete novice to advanced level. With graded classes you are always working at the right level with focussed teaching to help you develop and progress.
In association with ActiveQi offering Tai Chi and Qigong, Pilates4Life shows the same commitment to professionalism and innovation in teaching better movement patterns.
Mary Clarke-Mills
Founder, Pilates4Life
Formally trained in London and New York, Mary is the Creator and Technical Director of Pilates4life and is a much sought after Pilates Instructor, Menezes Method and Movement Specialist. With more than 20 years experience in the fitness industry Mary blends excellent teaching skills with humour, creativity, motivation and education.
Mary attended her first Pilates class more than 20 years ago.  Instantly hooked and inspired, she added Pilates to her repertoire of skills. Through her own practice of the method she is dramatically stronger and alleviated a back issue caused by a fall during pregnancy 30 years ago.
We rarely give any thought to the way we move UNTIL we begin to develop aches and pains. At that point we want an instant fix. However we may have spent years establishing poor movement patterns creating the ache!
Mary believes education is the key.   "The Pilates Method is a journey.  Initially it's one of discovery, then re- education through better movement patterns.  Find the "cause" of  pain or restricted movement. The goal is a strong body to cope with the demands of everyday activity including sport and the onset of ageing."
Over the past 9 years of teaching Menezes Method I have seen dramatic results with my participants; their practice has improved significantly, they achieve more and get there faster.
For some it has been "liposuction without the surgery"™
Jeremy Mills
Instructor, Pilates4Life
With a background in physics and engineering, Jeremy started pilates with Pilates4Life in 2005.  He qualified as a Pilates Instructor with Stott® Pilates and has a strong interest in Postural issues and biomechanics.
He studied Tai Chi and Qigong under Patrick Griffin at North London Tai Chi Gong, becoming an instructor in 2010 and is a listed instructor with the Tai Chi Union of GB . In 2018 he founded ActiveQi to focus more attention on Tai Chi and Qigong, giving weight to each discipline with targeted classes and opening the opportunities to those with restricted movement.